Are You Ready to Board Earthship?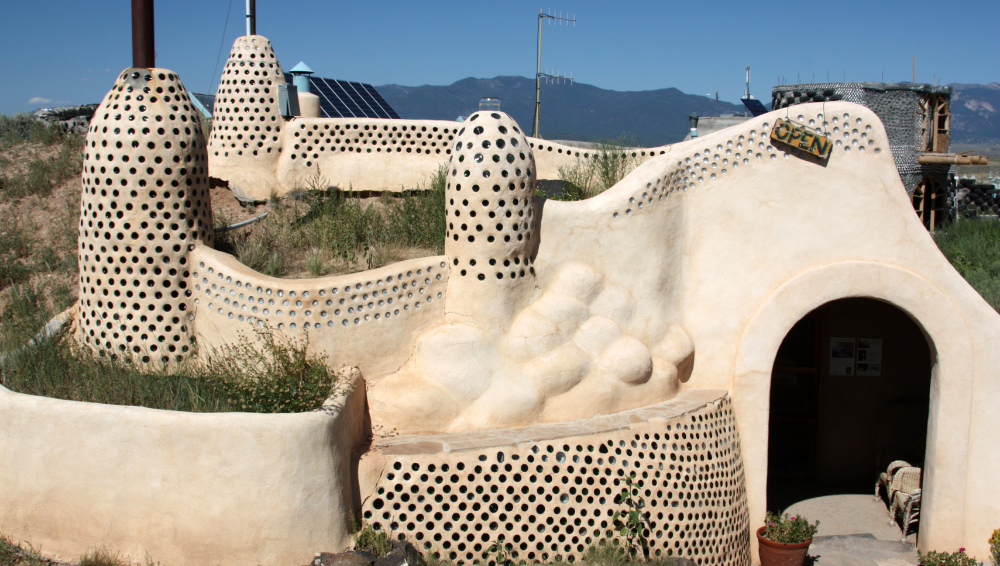 Welcome to Earthship Biotecture
Just when you think you've found the coolest most unusual sustainable dwellings on earth, your free spirited mama unearths a hidden gem that exemplifies sustainability on a whole-notha-level. Touting themselves as the number one eco-construction and self-sufficient living company, Earthship Biotecture invites us into a world of surreal autonomous houses.
Not only does Earthship support, teach and build sustainability, but the mission also organizes poverty relief programs globally. These off-the-grid development projects are a magic mix of not only architectural salvage, but also re-purposing, recycling, and harvesting natural and renewable resources and energy.
6 Unwavering Earthship Design Principles
Imagine a home that provides true independence, freedom, organic produce and self-sufficiency? Sounds like a harmonious fantasy, right? Yet Earthship, with an Antonio Gaudi architectural flare, has created this heavenly life on earth. You can even rent a place, buy one, or learn how to build your own, all with these human needs addressed:
Building with natural, repurposed, and reclaimed materials

Used tires play a key role.

Thermal/ solar heating and cooling

Central heating and air conditioning are not used. Nature however is.

Solar and wind clean energy electricity

They generate their own energy thereby reducing carbon emissions. Solar panels and vertical axis windmills produce electricity. Soil isolated behind and inside a wall of tires yields thermal mass and passive solar heating.

Water harvesting

No pumped or city supplied water is utilized which alleviates water scarcity issues. Rain and snow water are collected in a water cistern recirculation system.

Contained sewage treatment

Sewage is processed on site so contamination to water, rivers or sea that occurs in many situations globally is completely avoided. The same water is used 4 times – to wash, then to feed the indoor garden, then to flush the toilet, then to feed the landscaped outdoor garden. Not a drop is wasted.

Food production

Earthships produce organic food year-round in a protected greenhouse, staying free of the health risks associated with chemicals and pesticides in conventional food, all the while, steering clear of the economic market fluctuations. Added benefits include using less water for harvest growth and creating less carbon emissions since factory processing and transportation are unnecessary.
With all these features, Earthship provides a sustainable way to dramatically decrease your fundamental living needs with solutions that will cut your spending in about half.
Beam Me Up Scotty!
Aye, aye, Captain Garbage Warrior! Michael Reynolds, known as the Garbage Warrior since his 2005 documentary film, founded the original concept after graduating architecture school in 1969. The design and technology have evolved dramatically since then broadening the scope of sustainability these dwellings provide.
Earthship is available to experience in a number of ways. Want to dip your toe in an discover if these eco-friendly habitats are a fit for you? Check out their Visitors Center in Taos, New Mexico or rent one and intimately find out! "This place is so much more than a 'place to stay' for a couple of nights. When you walk through the doors of an Earthship, you are entering a whole new world of opportunity. Seriously, prepare to be amazed and intrigued by everything around you, and it will completely change the way you see the world you live in," Airbnb Renter quote from the Earthship website.
I'm All In!
Ready to be part of the carbon footprint transformation? Buy an existing Earthship available for sale or be part of the burgeoning community and buy a lot in the Taos, New Mexico development. There's even an eco-construction academy to learn hands on experience in constructing your own off-grid Earthship. Like ReCapturit's heart for stewardship, Earthship similarly provides options to alleviate some of our destructive habits and create sustainable solutions for an immediate better future.
Brit-Simone Kneeland blogs about holistic living at OrganicLivingDiva.com. Subscribe to our free architectural salvage newsletter. Follow ReCapturit on Facebook, Instagram, LinkedIn and YouTube.