Auctions Aren't Just for Luxury Art and Antiques!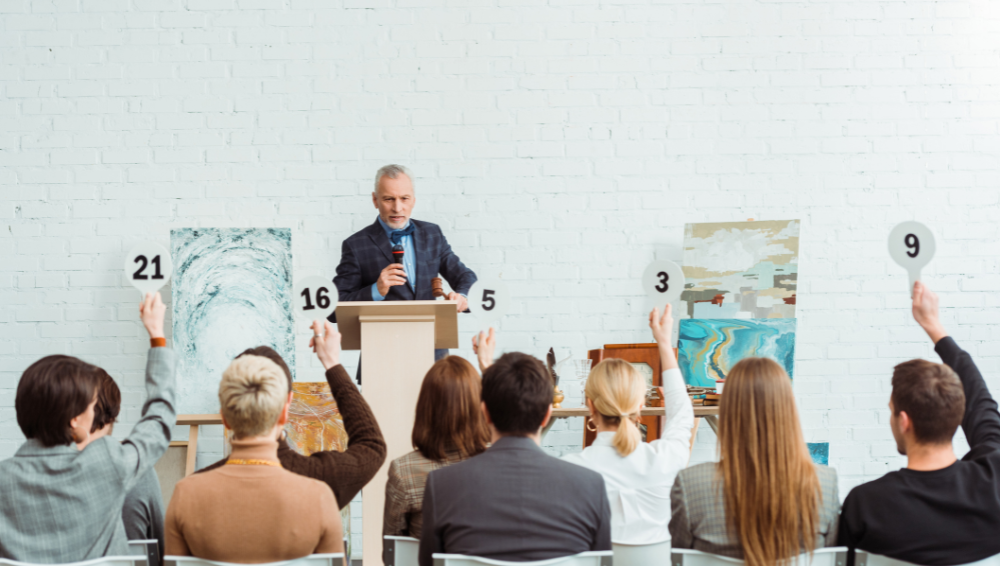 Architectural Salvage Finds New Clients Through Auctions
Whether you've got a place to demolish, or you're a keen eye shopper for unique constructive design, architectural salvage auctions offer a quick moving shift of reclaimed building materials from one home to another.
Whereas brick and mortar salvage stores, or online marketplaces likes ReCapturit, always have a rotation of inventory in stock, architectural auctions provide a short bidding window for unique items per location being demolished, renovated, or remodeled.
A Seasoned Demolition Auctioneer
With decades of experience, Jodi Murphy, a leading expert in building waste diversion, founded her business, Murco Recycling, in 1989 in Chicago. What started out as a single mom effort to support her three children, evolved into a passionate pursuit of reducing the carbon footprint, salvaging luxury building materials, and repurposing them at a great deal for the new clients.
Airing in 2008, Jodi also hosted Total Wrecklamation, a show giving a sneak peek into the industry. There's still a short video available encapsulating Jodi's enigmatic personality, her passion, her daughters who then worked with her, and her auctioneering skills.
Passion, Purpose and the Planet
Murco Recycling is a woman owned business that provides a free green, recycling alternative to demolition and disposal of salvageable building materials. Murco will remove, resell or donate everything from a renovation or teardown of your outgoing kitchen, bathroom, and used building materials for free.
It costs money to dump unwanted materials in the landfill. Working with companies like Murco help avert demolition and disposal costs. Instead, sellers earn a percentage of the resale, help the planet by keeping function material out of landfills, and help improve someone's life through luxury recycled materials sold at a low cost to the new owners.
In addition to the website, the Murco Facebook page also offers current images of pre-demolition spaces with all the cabinetry and appliances available for purchase. Similar to ReCapturit, an online shopping experience is also available at Murco with a unique rotation of salvaged goods. Browse supplies for kitchens and appliances, bathrooms, architectural antiques, building materials, flooring, doors and windows, furnishings, laundry and mud rooms, lighting and fans, heating and cooling, outdoor and landscaping, and storage and organization.

If you'd like to buy some of Murco's amazing products without having to go to an auction, you're in the right place. They're available here on ReCapturit.com

Online and Easy Architectural Salvage Auctions
With today's modern technology, taking trades online has become easier and more affordable than ever. Together with their real estate, moving, and auction expertise, Maria and Greg Stanton of Green Circle Architectural Auctions are doing just that, while adding value to both sellers and buyers. With a focus on sustainability, the couple provides an online auction service for both remodeling and demolition clients.
Search online for "estate sales architectural salvage" and discover a myriad of auction websites to browse. From the comfort of wherever you are in the world, online auctions like Auction Ninja offer unlimited opportunity. Inquiring about pick up or delivery details are essential, especially if you need an item shipped. Many of these auctions, however, require local pickup. Conversely, online marketplaces like ReCapturit provide shipping.
Salvage Shopper Designing Tips
Whether working with an interior designer or contractor, having your own ideas and desires listed and saved online with links to the various resources, like online salvage and auctions sites, will help research efficiency.
Word or Excel are simple and effective, however, programs like OneNote provide pages and tabs for easy sorting and more free form page development. Pinterest is great for developing ideas for projects with an array of possibilities for various budgets.
Commit to Sustainability
Regardless of which end of the reclamation process you are on, committing to sustainability takes planning, work, and building relationships. There's no single website encapsulating all architectural salvage resources, albeit there's a thriving market for saving building materials from early or unnecessary demise in a landfill. "Be the change you wish to see in the world," Mahatma Gandhi.
Brit-Simone Kneeland blogs about holistic living at OrganicLivingDiva.com. Subscribe to our free architectural salvage newsletter. Follow ReCapturit on Facebook, Instagram, LinkedIn and YouTube.